A TOUCH OF INDULGENCE AT SEARCYS
FIND YOUR PERFECT PRIVATE DINING VENUE
Sometimes an occasion calls for something a little more special; the average restaurant table just won't cut it. From small private dining rooms to intimate dining experiences with a view, we can find you the best private dining venues in London and around the UK.
THE BEST PRIVATE DINING ROOMS
At Searcys, we have some of the most luxurious private dining rooms to choose from. From the 18th-century banqueting rooms of Vintners' Hall to the glass-faced dining rooms at the top of The Gherkin in the heart of the City, a private dining experience at Searcys is always a special one.
The HAC

The HAC is quite unlike any other City venue; a magnificent Georgian building set in a five-acre garden hidden away in a q...

The Royal Institution

The Royal Institution Venue has a wide variety of rooms suitable for all event requirements.

The View London

The View is London's newest flagship events venue. The headquarters for The Royal College of Surgeons of England and The F...

116 Pall Mall

116 Pall Mall is a stunning Georgian venue in the heart of London. With five floors of event space, 116 Pall Mall is able ...

The Gherkin

There are few spots on the London landscape as striking as Searcys at the Gherkin, where a taste of the high life awaits. ...

Blenheim Palace

Famed as the birthplace of Sir Winston Churchill, Blenheim Palace is currently home to the 12th Duke and Duchess of Marlbo...

The Roman Baths and Pump Room

The Pump Room is available to hire for private events and weddings in the evening either independently, or alongside the R...

Barbican

The Barbican has a range of auditoria, rooms and spaces that can be hired for a wide variety of events.

IET London: Savoy Place

Centrally located in London, IET London: Savoy Place offers state-of-the-art AV facilities, 18 versatile event spaces, inn...

30 Euston Square

30 Euston Square is a Grade II* listed award-winning events venue, in a perfect central London location.

Stationers' Hall

Located by St Paul's Cathedral, Stationers' Hall is one of the few ancient Livery Halls remaining in the City of Londo...

Vintners' Hall

Steeped in history, the Worshipful Company of Vintners' is perfect for corporate events, banqueting, private dining, Chris...

Inner Temple

The Honourable Society of the Inner Temple is one of the four historic Inns of Court. Situated in the heart of London's ...

No. 11 Cavendish Square

A central London Grade II listed Georgian townhouse and events venue. The ideal location for conferences, events and weddi...

One Moorgate Place

One Moorgate Place, home of Chartered Accountants' Hall, is a beautiful grade-II listed venue in the heart of the City of ...
WHAT IS IT THAT MAKES PRIVATE DINING AT SEARCYS SO SPECIAL?
We believe that when done right, a private dining experience brings together the best aspects of hospitality, service and fine dining that you'd find in a high-end restaurant, with the personalisation and bespoke elements of hosting your dinner. After all, private dining is a vital tool in building relationships – it's the host's reputation and future success at stake.
PRIVATE DINING VENUES YOU AND YOUR GUESTS WILL LOVE
As private parties, corporate dinners and intimate gatherings of all shapes and sizes get back underway, we're thrilled to be re-opening our many private dining rooms across London. Across our long-standing venues such as St Pancras Brasserie and Champagne Bar, to the brand newly launched event space The View at the Royal College of Surgeons' HQ in central London, Searcys' teams of chefs have been hard at work to prepare these spaces to welcome you once more.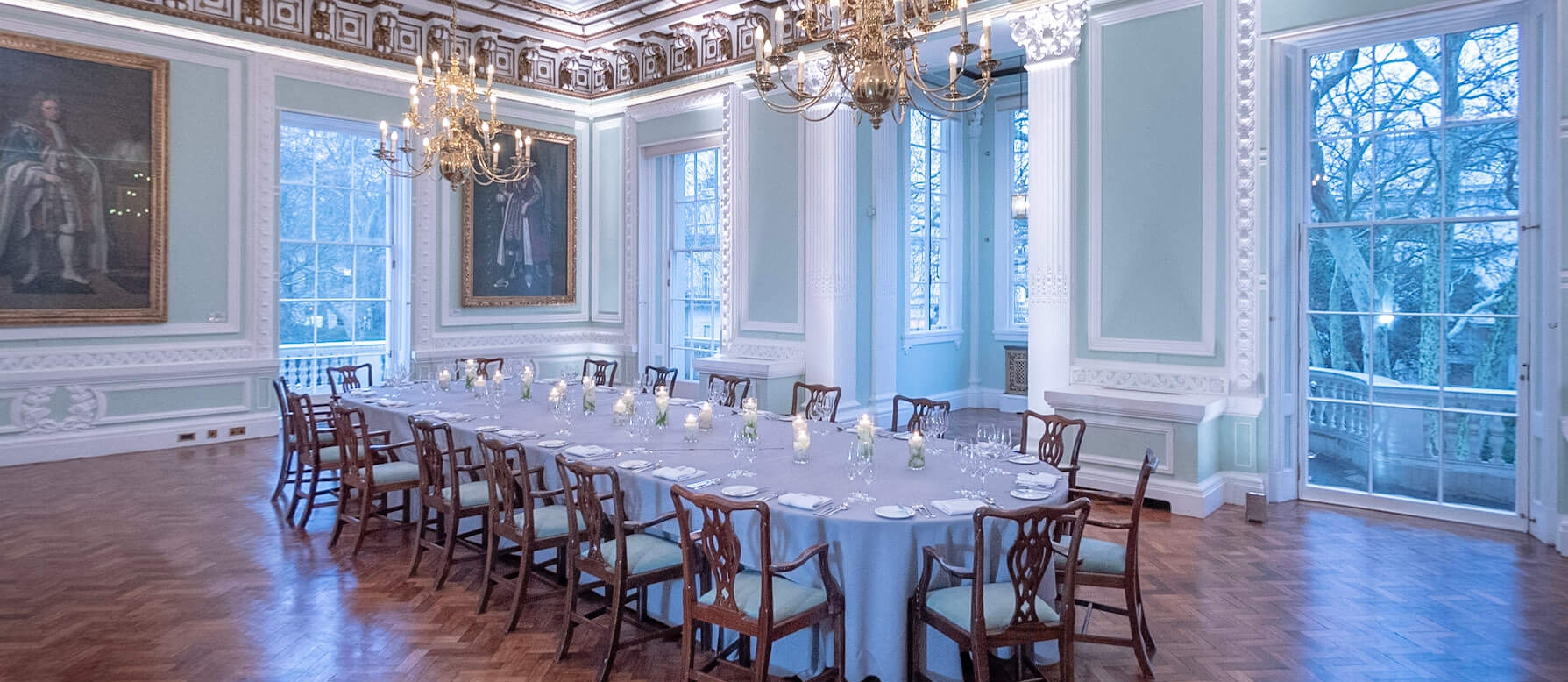 ENJOY A DINING EXPERIENCE WITH A SELECT NUMBER OF GUESTS
We create bespoke and seasonal menus for all manner of wedding breakfasts, corporate events and dinner parties, tailored to you so they can be as formal or relaxed as you like.
Each of the venues boasts a carefully crafted menu, where our Searcys chefs have created modern British menus, brimming with flavours and our signatures, from a beautifully executed Searcys hearty Creedy Carver chicken pie or Kruger Estate sirloin steak to a delicate Searcys Victoria sponge and indulgent Malted bread pudding with tonka bean ice cream, peanut caramel.
PRIVATE DINING AND MEETINGS WITH A DIFFERENCE
Despite months of remote working, we've all been craving that quick chat with a colleague or a client over lunch. Face-to-face meetings are still the most effective and powerful way to exchange and create ideas, build bonds and relationships – they're key to developing a productive and motivated workforce from deciphering non-verbal cues and facial expressions to quicker, more productive decision-making.
At Searcys, we know that productive meetings depend on the right venue and great hospitality. If you're not sure which venue to choose for your next corporate event or meeting, let us cut out the guesswork and find you the best event space.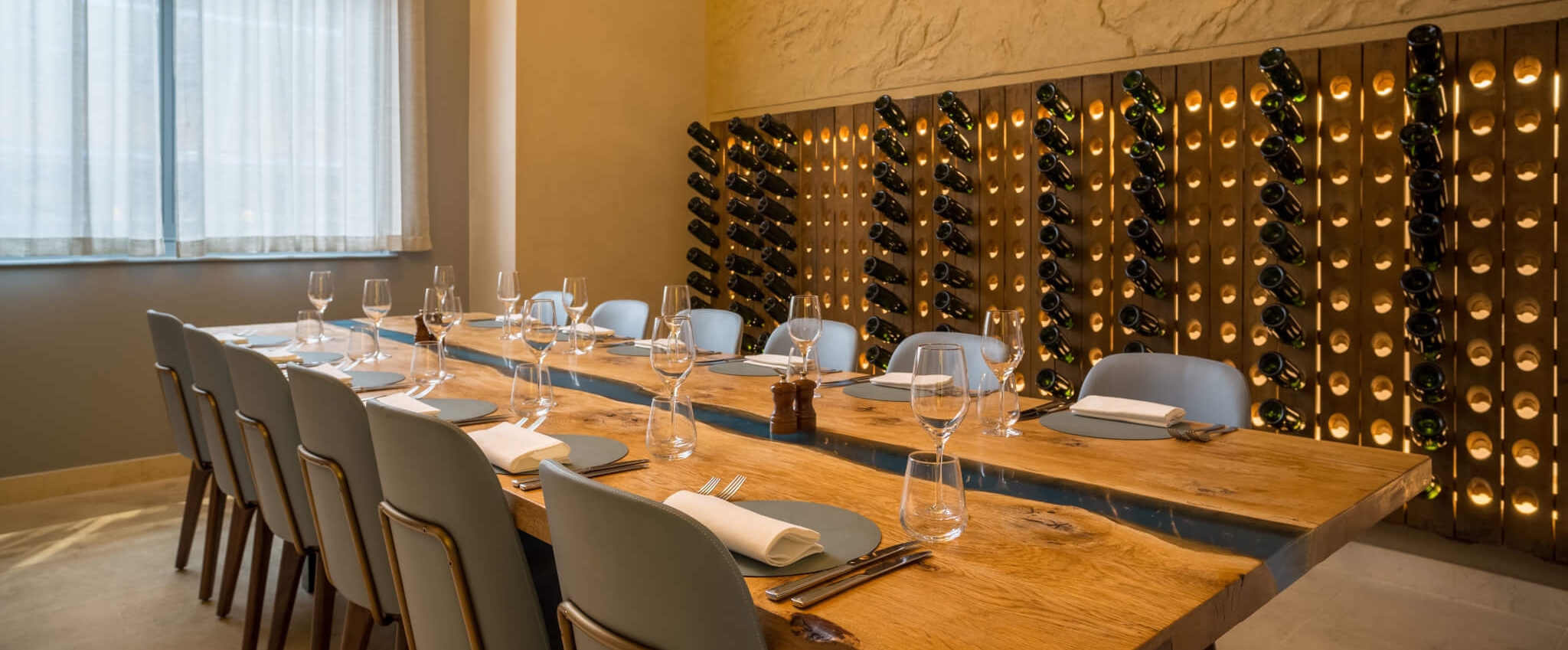 HOW DO WE ENSURE THAT ALL OUR PRIVATE DINING VENUES ARE COVID-19 SECURE?
Our venues are all COVID-19 secure, and our teams have been working hard to adapt and innovate, so everyone is kept safe as we come together in celebration once more. In the past few months, we have been working hard to implement COVID-19 government guidance to ensure that our event and meeting spaces are safe for you, our delegates, our teams and suppliers.
Each Searcys venue receives "We're Good to Go" industry accreditation, launched by VisitBritain, which confirms that we adhere to the Government and public health guidance. More so, all Searcys venues are regularly audited and accredited by NAVITAS, our nominated independent health and safety consultancy, for compliance in line with our secure safety framework.
To make sure your event goes smoothly, we've put together a secure plan for Covid-proofing some of the UK and London's best venues. Take a look here.
For more guidance, you can get in touch with our Event Experts, who'll be happy to help you.
BOOK A PRIVATE DINING EXPERIENCE
Our expert team can help you with everything from recommending the best private dining rooms in London to the best private dining packages for you and your guests.
A MORE INTIMATE AFFAIR
John Searcy understood the importance of an excellent private dining experience when he founded the company back in 1847. 'Gentle, courteous and masterful' were the words used to describe our founder John Searcy's character, and these traits are all still fundamental to the Searcys brand personality today.
We're enormously proud of every step of the Searcys story, and alongside the flawless quality we deliver at our private dining events, our heritage is what continues to open the doors of some of the UK's most prestigious establishments to us today. Our priority is making sure the host feels relaxed and supported, the guests are very well looked after, and a well-choreographed service is delivered.